Are you ready to launch your business's online presence but you need some help getting your website up and running?
Do you want to have a professional website with an attractive design that your customers will be drawn to, with easy navigation, but you lack the cash to hire an expensive web developer?
Do you want to be able to take back control over your current online presence?  Already have a site but you want to know how to update, change things around, re-design & optimize it?  Sick of paying hundreds of dollars a year to Website Developers for simple edits you could do yourself?
Know you need a website but not sure where to start?  Maybe you just need to be able to understand how it works and what you need, so you can work with your web developer easier and quicker.
WordPress in a Weekend Course has been written for you!
WordPress is a platform that gives us a user friendly and easy to navigate & update platform with the opportunity to 'plugin' extra functionality as you need it.  WordPress is an online, open source website creation tool written in PHP.  But in non-geek language, it's probably the easiest and most powerful website, content management system (or CMS) & blogging tool in existence today.  It allows you to pull much of your Marketing together in the one Dashboard.  With over 2 Billion WordPress Websites online, WordPress is the platform of choice for many Business Owners, Entrepreneurs & self-branded Superstars.
Once you've surveyed the options, you make a decision, only to see 'something more amazing, practical or better suited' the very next day.  There are so many choices, and many times we simply get confused, and confused people do nothing.  We think that once we have made a decision about something on a certain page, or about a design or a certain image, we are stuck with it until death do we part, until we have the expensive perceived budget to make the changes.
We put the website thing off for another day, which turns into weeks and months, resulting in loss of weekends, headspace, sales, leads and hinders overall Business Growth…
With WordPress, the whole process is made so much simpler and it's so much more cost effective.  You, the Business Owner can make your own changes, changes made to just one page, or one optin, or one area, or a completed design refresh, without having to technically build a completely new site.  WordPress gives you options.  The skills you will learn here will give you the freedom to play around and perfect in your own time.  If you hire a developer to make changes for you, the cost is a lot less as the time taken to make that change is less.  Your content remains, its just the outer aspects we update.  It's time Business Owners took back control over their digital presence.
Did you know that building & maintaining your own website can be easy and straightforward, but only when you have the right guidance & information?  Not having a website, or not having control over your current website can make it difficult for you to really grow your business the way you want to, and in the time frame you want to.  Business Owners get freaked out over HTML code (and rightly so!).  There is a better way…
Many waste hours and hours pouring over themes, when we have ground breaking technologies in certain builders that allow us to create pretty much anything!  We no longer have to be limited by the theme we purchased, you know that awesome looking theme that once you loaded onto your WordPress site, didn't look anything like the picture?  We can mix it up, change it around, and really make an impact on your given industry.
WordPress in a Weekend has been born out of the development of a number of WordPress Websites, the training of a number of Business Owners and the queries and confusion they face, when thinking about their Digital presence.   This Course takes you through all the basics of planning, building and editing your own Website, designing your pages and the things you need to know, then onto the SEO (Search Engine Optimisation) and the Marketing of your brand new site.  You will also have the tools and resources needed to make your mark.
You not only get this Training from a Design perspective, we have also written this Course from a Business & a Marketing perspective, and we throw in our best tips along the way to give you that headstart.
Enjoy the flexibility of managing your business's online presence without being dependent on expensive developers that can cost up to $200 an hour or more, and the time it takes for them to fit you in.
WordPress in a Weekend is an online course developed by Nic Henry Jones of Market Me Marketing Australia, that will guide you through everything you need to know about creating your site, from the initial planning stages, right through some of the technical areas of WordPress, domains and hosting, through to content, images, and search engine optimisation (SEO).  This is more of a beginner course so while you will be provided with bits of HTML code, you can go through this course without using it!
The course is divided up into logical lessons enabling you to take the course on a timeframe that suits you.  The lessons are made up of written & video sessions, with screenshots, cheatsheets, links, tools & resources along the way to help you make the most of the course.
You will learn how we build our websites, and the creative things and small touches we use to create that WOW factor!
We will take you through the current most popular and innovative theme/builder available on the market, Divi by Elegant themes.  If you don't stay with Divi, the content and website will stay as per your hard work, you just need to either find another theme or have a designer tweak it till its perfect!
The Course is designed to be completed in a weekend or across 2 days of your choosing.  You will have 90 days access to the course though, so you can do a module every few days if you like!  It's totally up to you.
Access will be emailed to individual participants within 48 hours of payment being received.
A Development Website to work on with your own log ins
Access to a Private Facebook Group
Downloadable Notes for each session including screenshots & links
Recommendation, links & resources
Wordpress & Marketing Cheatsheets
Access to reduced WordPress Maintenance/Design Rates to help you get those last few things done
Full Access to the Course for 3 months
If your development site is finished in the 3 month period of the Course, we will take it live at no extra charge!  Websites going live after the 3 month period, will incur a $85 charge.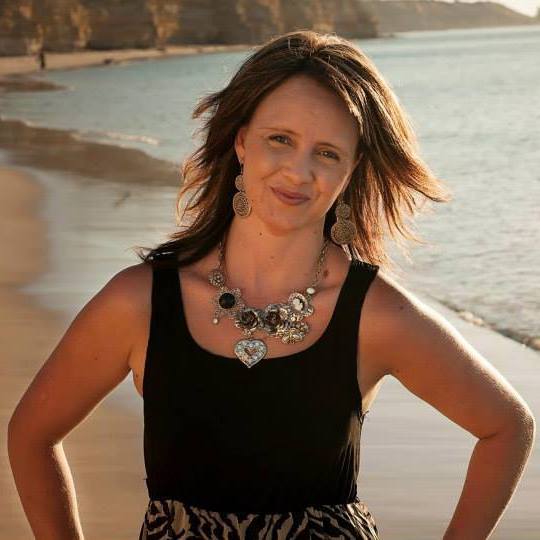 Nic Henry Jones, Creator & Director of Market Me Marketing, has helped over 2,000 businesses increase brand awareness by setting up business profiles on social media and teaching business owners to use them effectively, with over 300 business pages managed. She has also built 40+ WordPress Websites, and manages updates for 12 clients ongoing.  She has a passion for helping market business 'the smart way', and loves sharing her marketing experience with other businesses in a way that is eye opening, creative and empowering.  You will walk away resourced, inspired & empowered to get straight to marketing your business in new and fresh ways. She has built Market Me to be a fulltime business from day 1, mostly by using Facebook and the strategies outlined in this workshop, to promote herself, build value and help others.
Her sessions are extremely informative, empowering, practical, full of tips and tricks, are eye opening, and she has a way with words that turns marketing into a fun innovative job that you WANT on your 'to-do-list'!
Based in Adelaide, she is a mum of 3 kids under 10 (including twin 7 yr old boys), is an entrepreneur at heart, has a passion for training business owners and speaking at events, and runs & is involved in a number of profitable businesses.
What types of Business is WordPress best suited for?
WordPress is great for Businesses not needing large e-commerce web functionality.  It's great for informational sites, service business sites, entrepreneur type sites, and simply having the skills to use WordPress opens up great opportunities for Businesses to get a good quality online presence, that they can manage.
What happens if I need help after the course to complete my website or deal with changes I cant make?
If you still need help after you have completed the course then our support team will be here to help you and at a reduced rate for Course Attendees.   You will also have access to a Private Facebook Group so we can help you & others on general queries or help troubleshoot any problems for the 3 Month Period.
Who is this Course suited to?
The Course is suited to anyone who would like to improve their WordPress Skills, revamp their current site, or create a new site.   Suitable for Business Owners, Entrepreneurs, Admin or Marketing Staff, and anyone looking to grow their online marketing skills base.
Do I have to take the course in a Weekend?
No, definitely not.  There will be people that would prefer to block a weekend out to go through the course, others may need to do a lesson a day, or a lesson a week depending on their availability.   You have 3 months access to the course allowing you to make the most of it and go back over any sessions you feel you need to redo.
When will I get charged for Edits on my site?
Basic support (anything that takes less than 10 mins to complete) is offered at no extra charge through the 3 month period.  If there is something we can advise you to do in the Facebook Group, there will be no charge.  If we need to spend longer than 10 minutes on the edits of your site, or need to code changes in, you will be charged at the reduced rate for these, though you will be advised first.
I dont have much time to maintain my site, can you do this?
Yes, we offer a Monthly WordPress Maintenance Package where we ensure there is a backup completed, check for comments/spam, and update WordPress or any plugins for $49 per month ongoing.
What types of Business is WordPress NOT ideal for?
WordPress is a great for informational sites or sites that have under 100 products.  The Woocommerce plugin is the e-commerce plugin of choice for many.  But there are other creative options, such as utilising wordpress and Shopify as a complete ecommerce system, enabling you to facilitate a blog and tick off all the boxes.  If you are unsure as to whether wordpress will be suitable for your Business, feel free to contact us for a quick review.
Can I change the theme or design after the course without it affecting my progress?
Yes! Once you have worked through the course and have a website up and running, you will have enough knowledge to make decisions about taking your design further by engaging in a designer to help with the final tweaks, or you will know how to search for themes to find one that suits your Business.  The great thing about WordPress is the content and media images remain, its generally then just the design that needs tweaking.
If you still need help after you have completed the course then our support team will be here to help you and at a reduced rate for Course Attendees.
Do you have a refund policy?
Once you have been given access to this course, a refund will only be given if you were unable to watch the videos and an alternative solution could not be provided.
What are Market Me's WordPress Design & Maintenance Rates?
Our standard rate is $85 per Hour.  All Course Attendees will have access to WordPress Design & Maintenance support for $45 per hour for the 3 month period.
I already own a domain that I am not using, can I use this to build my site?
Absolutely!  Just let us know when you sign up for the course.  Regardless of whether you use our development domain, or you build directly onto your own domain (if there is nothing else there), you will be required to organise hosting.  We can assist once hosting packages are purchased.
Do you offer an Affiliate Program for this Course?